In our apartment "Bühlblick" you will find a very nice bedroom with a floating beam bed with two very high quality mattresses.

One slightly harder and one softer. Allergy friendly pillows and down comforters. In the bedroom there is a pull-out sofa, which can accommodate another person for sleeping if needed.
In the bunk bed room there is also a very high quality bunk bed made of oak. Here, too, we have prepared for you excellent mattresses, as well as allergy-friendly pillows and down comforters. Behind the door is a corner for relaxing, which can also be used as a complete sleeping place.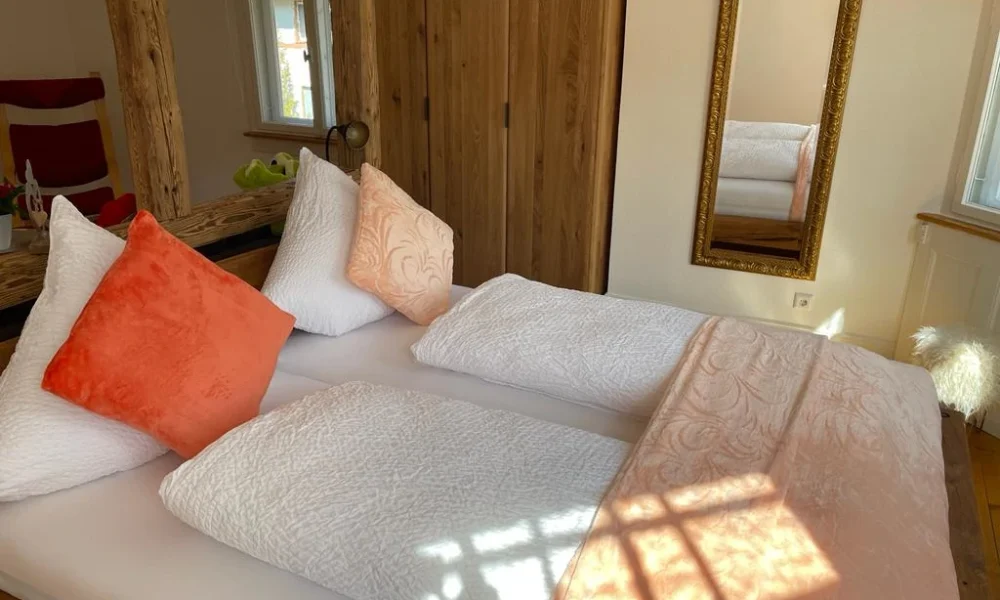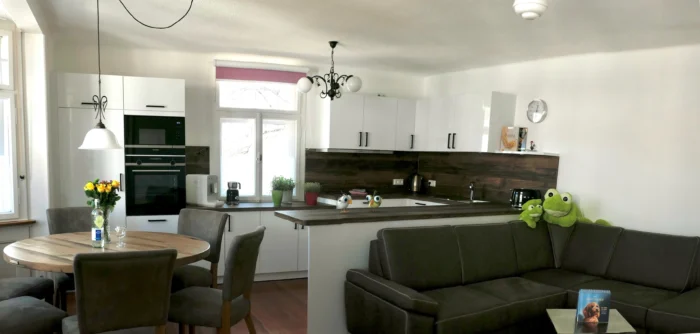 In the kitchen and dining area there is also a sofa that can be pulled out and, if necessary, offers space for sleeping for one person. If you do not need prepared sleeping facilities, we ask you not to use them for sustainability and ecological reasons.
The kitchens are new and equipped to a very high standard. If something is missing please give us feedback immediately. The house is basically a self-catering house.

Behind the sliding glass door in the hallway is a "rumble chamber". Here you will find everything necessary for the household:
A vacuum cleaner, a mop, iron as well as ironing board and other utensils if you want to clean something.
The large garden, with a barbecue area and many opportunities to relax, is of course available to all our guests.
W-LAN is available in the house. Mobile network accessibility is also available, but it can vary depending on the provider.
If you have a dog with you, please note our guidelines: "Rules of conduct dog".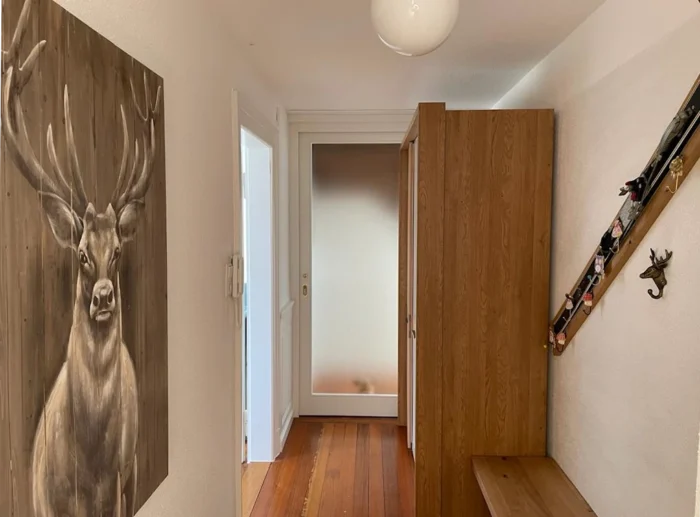 We are private landlords and have put a lot of heart and soul into the renovation, design and furnishing of the rooms. For us, renting is a matter of trust. The house is not a museum, but we hope for a mindful approach. There can always be something broken, that happens now once – and we ask to tell us this also immediately, so that we can take care of it and the next guests also have everything available!
Anything over €50.00 in replacement cost we would charge in the event of a mishap. But that's what private liability insurance is for.
We kindly ask you to remove the beds on the day of your departure. If you have booked a longer stay with us and you need fresh towels, shower or kitchen towels, as well as bed linen, please contact us.
If you need anything else, let us know. We will do our best to be helpful to you!
Sincerely,
Your host family
Anna Kaiser-Dieckhoff and Luis Tavares Vieira
In the following we would like to give you a short insight and some hints about the house, so that you can easily find your way around and then feel at home.
We have prepared the premises with a lot of care and love.
On the ground floor there is "Uwe's Stube" and on the first floor "Bühlblick". One floor is permanently rented.
From time to time we do the gardening, mow the lawn, or do other activities on the large estate.
Here you are welcome to contact us personally. Otherwise you can reach us via e-mail.
Our house at the Bühl is a half-timbered house and largely built of wood. Therefore, any open fire (eg candles) in the building and smoking ( even in the covered winter garden) is not allowed! The exception is the tiled stove in the apartment "Uwe's Stube". Please be aware of your responsibility when dealing with fire!
The house is quiet, but we have direct neighbors and therefore loud parties, bachelor parties and the like are also not possible. Overall, the house is ideal for people who are looking for the quiet, original and would like to take advantage of the tourist offers of the Black Forest.
The attached garden invites you to barbecue and linger